Second netfilter developer workshop
The second netfilter developer workshop was held on 18-19 August 2003, Budapest, Hungary.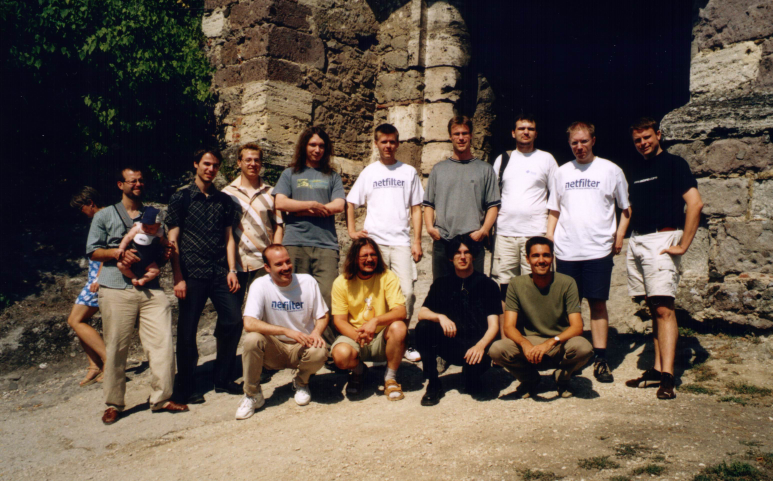 The participants were (from left to right):
| | |
| --- | --- |
| First row: | Rusty Russell, Jozsef Kadlecsik, Harald Welte, Herve Eychenne |
| Second row: | Flavio Pescuma, Thomas Heinz, Michael Bellion, Patrick McHardy, Oskar Andreasson, Bart de Schuymer, Andras Kis-Szabo, Martin Josefsson, Gert R. Hansen |
| Not on the photo: | Krisztian Kovacs, Illes Marton, Balazs Scheidler |
Agenda
18 August, Monday
Welcome, Introduction
nfnetlink/ctnetlink/pktnetlink (Harald)
iptables2/pkttables (Harald)
benchmarking (Jozsef)
(high starting points on some graphs were due to script bug, fixed; wave-like graph with TCP window tracking is because the test uses unnaturally short timeouts!)
Other issues, first part (Harald)
19 August, Tuesday
nf-hipac (Thomas and Michael)
status and future of pom patches
Other issues, second part (Harald)
20 August, Wednesday
Excursion to Visegrad and Danube bend
Summary
Harald wrote a summary on the workshop.