Main Page
From 12th Netfilter Workshop
Netfilter Workshop 2016
This is the wikipage for the Netfilter Workshop 2016. The official webpage is available at: Netfilter Workshop 2016.
Netfilter Workshop is a closed invitation-only workshop for Linux Kernel developers on the Networks stack. It is a 5 days intense workshop, with a single public user-day Netfilter meets Suricata userday on 27th June.
We will use this page during the workshop as a collaboration site.
Group picture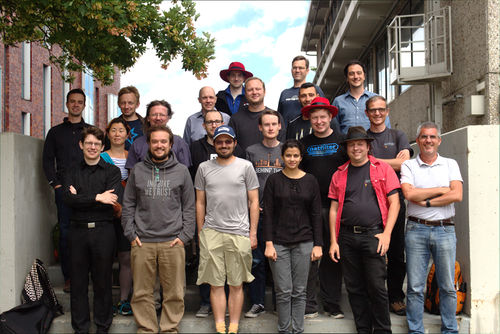 From left to right. First row: Harald Welte, Pablo Neira, David Miller, Shivani Bhardwaj, Yannick Brousseau, Luigi Rizzo. Second row: Soyoung Parks, Jozsef Kadlecsik, Andreas Herz, Joe Stringer, Jesper Brouer, Eric Dumazet. Third row: Thomas Graf, Daniel Mack, Simon Horman, Eric Leblond, Giuseppe Longo. Forth row: Florian Westphal, Justin Petitt, Victor Julien.
Practical stuff
Schedule
User day presentations
Developer presentations
Hacking Days: Hackathon
The Hacking Days this year, will be run as a hackathon schedule/program.